Roaming on Jodhpur streets for eateries
When we talk about Jodhpur, the first thing that comes to our minds, is that it is an ancient city, beautifully painted in blue color with a silent massive fort overlooking like a watchful guardian. The people of royal blood still have covered the city like a magic of the time. But don't let this gust influence your understanding of Jodhpur only as royal leftovers. Take a walk along the streets of the city and a whole new world of culinary delights will welcome you in innumerable flavors and aroma. Jodhpur cuisines are all about spice, chilly and a rich collection of sweets and the best place to enjoy them are the local eateries and food joints.
The discussion over Jodhpur foods will be incomplete if laal maans is not mentioned on frontline. A mutton curry prepared in typical Rajasthani style, laal maans is synonymous to Jodhpur and is easily available in any eatery of the city. This item, laal maans is equally popular and easily available in all the corner and  street restaurants as well as big eateries.
If you are not in mood for heavy red meat or you are a vegetarian. In both the cases, you can go for a plate of pyaaz ki kachori, a snack often enjoyed with a specially-made potato curry or mint chutney. The size of the kachori differs from stall to stall, but it is a good remedy for you, if suffering from hunger.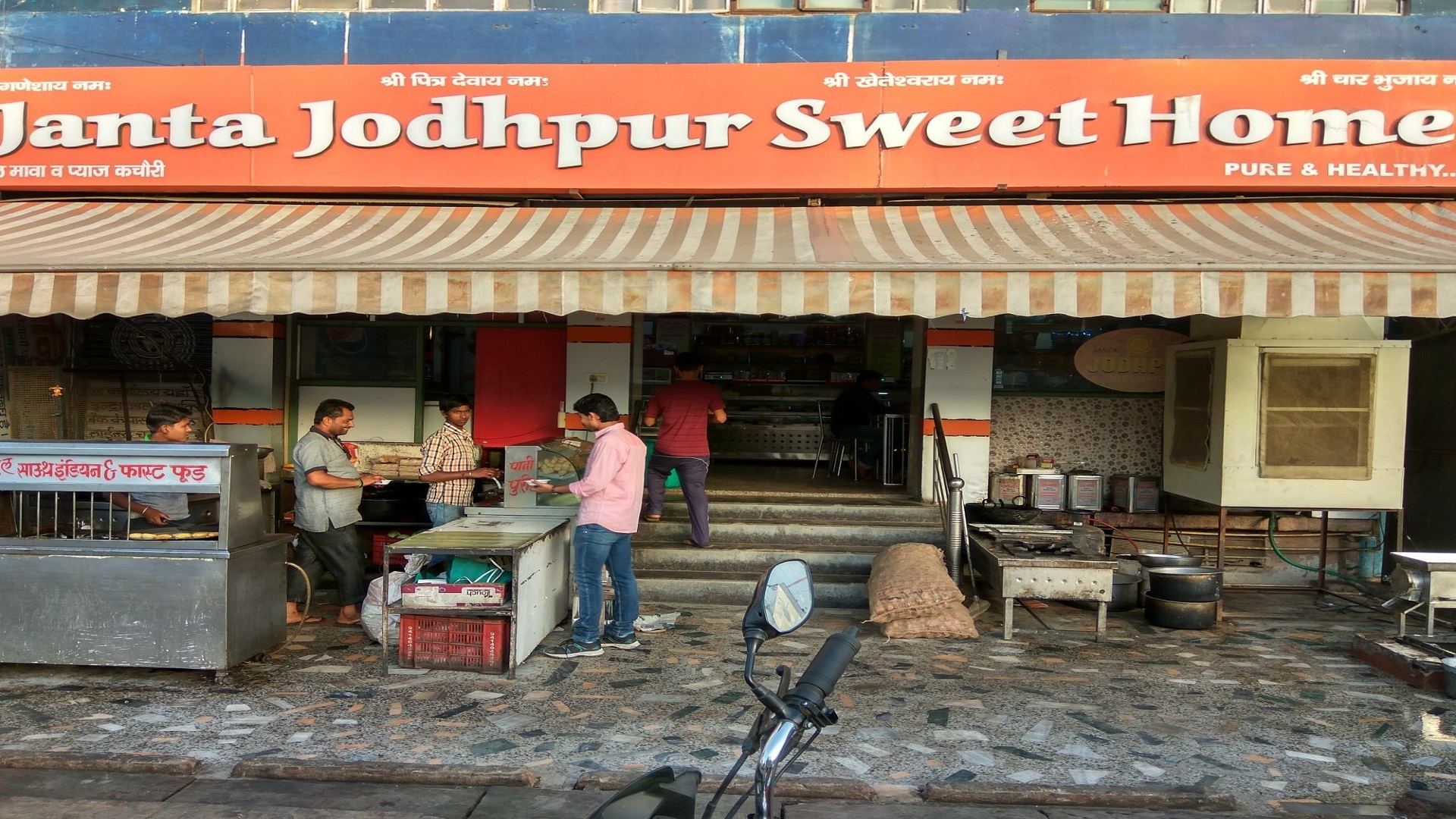 Mirchi badaa ,the another specialty, will test your ability to consume a full-grown green chilly, Mirchi badaa, is not for the faint-hearted. The chilly is soaked in rich gram flour before it is deep- fried in oil. So, when it reaches your plate it looks like a normal pakora but only with a wrathy chilly inside! Dip it in either mint chutney or tamarind syrup and let the heat set fire to your senses. The famous local food corner—Janta Sweet Home at Nai Sarak—is the suggested place for a mirchi badaa feat.
After the mirchi badda, it's time for some delicious sweet. The  tasty and famous sweet is mawa kachori, dipped  in sugar syrup and letting your body to have a sugar rush. Apart from this, you can find out other mouth-watering Jodhpur specialties like mawa ladoo and malai sandwich while still in the Janta Sweet Home. The place has limited seating arrangement but nothing betters the experience than enjoying your sweet dish as you see the city continually moving.
Or we suggest you to go for some makhaniya lassi. If you are in the market around the Clock Tower, It's the famous for cream riched drink made with curd, cardamom and saffron, and is nothing less than a sinful involvance for the sweet tooth.
After the lassi, let's take a staggering from the traditional snacks and desserts and talk about a very common food item—omelette. Well, it's not that Jodhpur has some different kind of preparation or secret ingredient; it's more about two omelette stalls that are very much popular in the city and are located facing each other on the northern exit of the Sadar Market. These two stalls compete each other with endless varieties of omelettes. There competition gets into economy also as they attract more customers by playing around their prices . Both the places do a decent job, so there is no harm in paying a visit to these local favourites.