Experience the beauty of Binsar during Solo Trip!
In the middle of the beautiful Himalayas, there is no need for a mate to visit Binsar in Uttarakhand. There is no doubt that the fun of the trip with friends doubles but there are some places which are the only joy to explore alone. You can count Binsar in those selected places. Looking at Alpine and Rhododendron trees as it moves just a few kilometers from Nainital it will look like they are standing for a warm welcome. From the 11th century to the 17th century Binsar used to be the stronghold of the kings. Attractions of Binsar are Kedarnath, Nandakot, Trishul, Nanda Devi, and Pancholi peaks.
So if you have planned to go to Binsar alone this weekend is enough for you to roam leisurely. These are the places you can visit when you are in Binsar:
Zero Point
Breathtaking natural beauty sprawls around the Binsar Zero Point which allures many nature addicts and avid travelers to visit this place. One can enjoy sightseeing or rejuvenate themselves amidst the captivating natural vistas of Kumaon. About Binsar Zero Point Zero Point is a short trek from Binsar Wildlife Sanctuary Tourist Rest House. You can park your cars at the TRH and further take the swift 2 km trek to the man-made watchtower. The entry fee of the sanctuary is Rs. 150 per person (valid for 3 days) and Rs. 250 for the car. This beauteous place is approximately 9 km drive from the entry point to the National Park and 45 minutes (2 km) walk after that. It takes about 50 to 60 minutes to walk uphill from the road head.
Binsar Zero Point exhibiting its gorgeous landscape is perched on a hilltop, for which one needs to trek uphill. A brisk 2 km trek will take you through the woods; you can explore the wilderness and hear the birds chirping in ecstasy. One can admire the biodiversity of the wildlife sanctuary or savor a gorgeous vista of the snow-laden mountains.
Golu Devta temple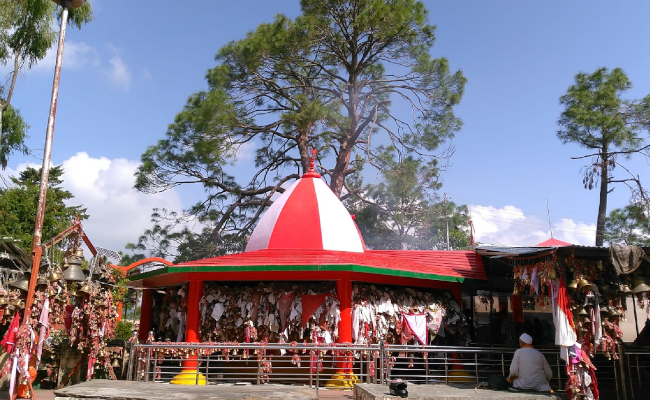 Golu Devata Temple, which is the revered deity of Kumaon, is 4 km away from Binasar Wildlife Sanctuary. The special look that is seen in the temple is that here people offer bells of brass rather than sweets to God. People write their own desires on a paper and stick to the bell and bind them here. This unique tradition has been here for a long time.
Binsar Wildlife Century
Oak, pine and rhododendron, Dense forests including Leopard, Himalayan Bear, Wild Cats, Fox, and House and about 200 types of birds can be found here. Apart from animals, many types of trees also make this place special. Families, friends can come here with anyone to enjoy.
Kasar Devi Temple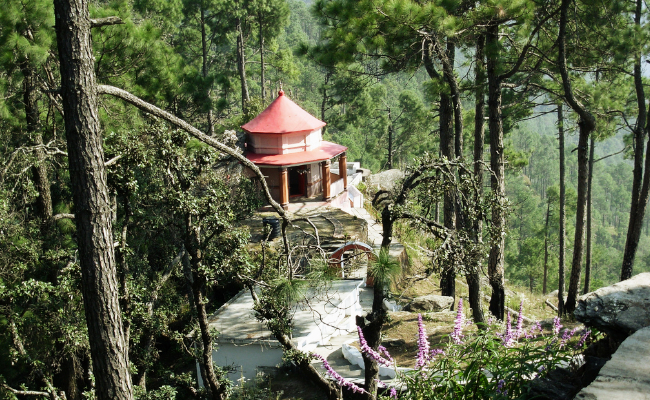 This is Binsar's second famous place. It is said in the 19th century Swami Vivekanand had come here for meditation. Not only the texture of the temple but the culture here is also very different and it works to beautify the beauty of pine trees spread around it.
How to reach?
Air
Pantnagar is the nearest airport to reach, from where the distance of Binsar is 140 km.
Road
From Almora, there are easily cab and local buses available for Binsar.
Railways
Kathgodam is the nearest railway station, from which Binsar is 112 km away.