Marvanthe Road; Where sea and road jog together
Travelers on their way to Karwar from Udupi cannot miss the serene beauty of Maravanthe – a rare location where one has the company of roaring sea on one side of the road and calm river on the other.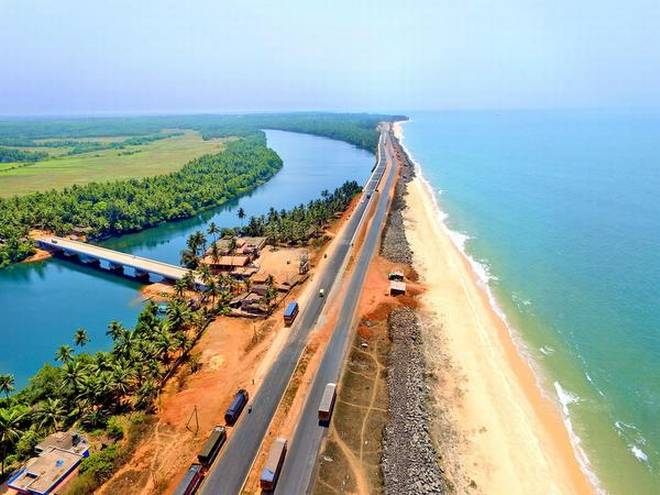 Marvanthe Road which is 34 miles from Udupi is one of the must visit place in India. It has the sea on one side and river on the other side which attracts its tourists the most. What is special about this place is the fact that NH-17 races along the aquatic stretch of Arabian sea on one side and docile River Sauparnika on other, against the picturesque background of the Kodachadri Hills. Maravanthe is the town that houses a beautiful beach, and this town is located in the South Canara district of Karnataka. 
Maravanthe is a getaway which can be best described as nature's basket full of mesmerizing picturesque views. A beautiful beach town with white sand spread miles and miles along the coast fetches the beach a nickname of Virgin Beach.
The sunset sets the whole place tinted in the shade of sepia just out of a painter's canvas. With pleasant weather especially during winters, the place also offers the fascinating villages namely Trasi and Padukone located in the vicinity.
How To Reach Maravanthe
The town is quite easily accessible through air, rail, and road. The nearest airport is Bajpe Airport in Mangalore and the Bangalore International Airport. From Mangalore Airport you can reach the beach through buses or taxis. The nearest rail junction would be Mangalore and the beach is easily connected to other parts of Karnataka by good roads, which makes commuting through buses or private vehicles easier.