Did you know Kolkata won the best street food of India? Here's Why
Beating Mumbai, Amritsar, Delhi, Surat, Kolkata has won the best street Food as per the survey done by Taste of Travel. So if you are planning to taste the best street food then City of Joy is the best destination.The Cultural Capital of India is a heaven for foodies and especially for people with a sweet tooth. Bengali sweets are famous and certainly needs no introduction however; the spicy, tangy and absolutely mouth-watering dishes that Kolkata has to offer will leave you undecided on whether you like the spicy Bengali cuisine more or the melting flavors of the sweetmeats. 
The research was conducted independently among 56,727 respondents over 30 markets. The results focused on Indian travelers only, which consisted of 2,023 respondents.The survey was conducted in 2018.Encompassing the wide variety of street foods, here are the street food which everyone must try when they are in Kolkata.
Puchka
This is said to be the King of Street Food.If there's some place in Calcutta where each and every phuchkawallah makes a phuchka to die for, it is this. 
Kathi Rolls
Did you know the now famous 'Kathi Rolls' were first invented in Kolkata? This shop called Zaika owns the credit to the delicious stuffing wrapped in thin roti that is now found in every city. Though there have been variations and twists as it found its way across cities, the original and authentic Kathi Rolls can still be found at Zaika.
Ghugni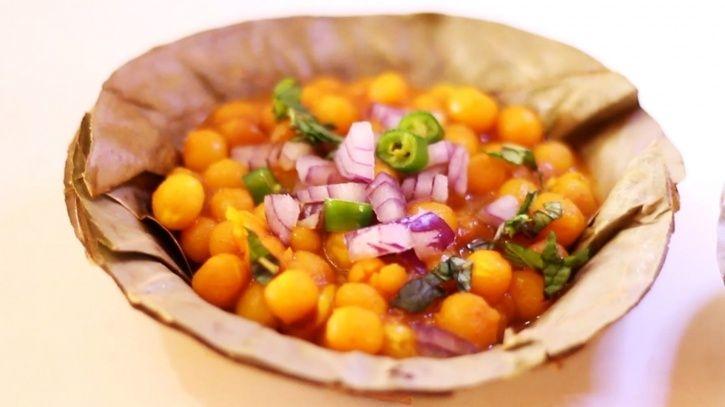 Prepared with a combination of white and yellow gram peas, the dish includes fresh coriander, chillies, onions, tamarind and mint. Found in every corner of Kolkata, it can be enjoyed either with bread but is a filling dish on its own.
Aloo Kabil
If you are in the streets of Kolkata, you will get to know about Aloo Kabil. It is a quick Potato snack hot and spicy dish.This dish is rich in flavours. It is a street food prepared with the boiled potatoes tossed with tomatoes, onions, tamarind, spices, namkin,chickpeas, chillies.
Telebhaja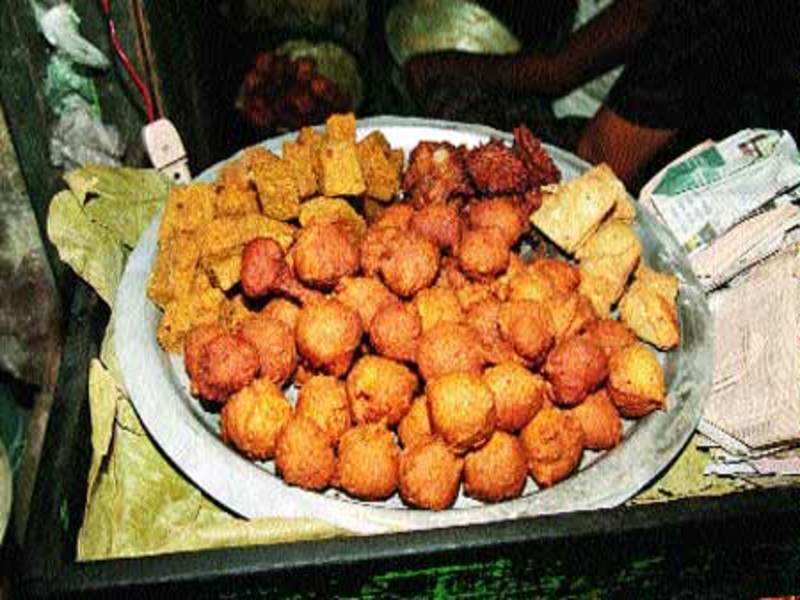 Called as Pakoras in Hindi, this fried snack is another evening brunch food especially on a rainy day. The snack is prepared with different ingredients like onions, potatoes, brinjal and even meat dipped in a batter of gram flour and deep fried in hot oil. It is another best combination food with tea (Chai).
Singara
Singara means Samosa is famous all over India.It is the best evening snacks craves to have with hot masala chai. In Kolkata, Singara is not confined to have only Aloo stuffing but also has variations with mutton, lamb and chicken stuffing.
Churmur
Made using Puchka, it is another street food where the puchkas are crushed mixed with boiled chopped potatoes, spices, onion and tamarind. Quite similar to puchka in taste but still if you miss out on this, you journey to the 'City of Joy' is not complete.
Jhal Muri
This is a perfect go-to snack in the city of Kolkata. Jhalmuri is an easy, munchy and quick smack prepared with puffed rice, peanuts, onions, namkeen, coriander, spices, tomatoes, chilies and other special ingredients. No oil and no time for cooking make it one of the most favorite street foods of Kolkata. When on a street food tour in Kolkata, You can never miss your hands on Jhalmuri.
Bon Appetit!