Believe it or not this is the last land of India, Dhanushkodi
Situated about 20 km from Rameswaram, Dhanushkodi is a picturesque spot and a place to look for. Dhanushkodi is one of the cleanest beaches in India and the abandoned town. A place situated in the Pamban island of the state Tamil Nadu. Dhanushkodi is a preferred tourist place but with serenity and peace, azure sea, soft white sand, and ruins along its sandy shoreline that fascinate travelers.

Dhanushkodi, once a thriving town ruined in cyclone
Dhanushkodi was once a bustling and flourishing town – with houses, schools, church, temple, a post office, and a railway station. Thousands of people resided in this tiny town, known as one of the richest fishing belts in the country. Also, it was the only land border between Sri Lanka and India and served as a major port for several pilgrims and traders.
The temple and the church in the town were visited by many devotees, making it a preferred tourist spot. But now it is an abandoned town means that the economic activities of the town had failed due to natural or man-made disasters. This town was hit by the 1964 cyclone in the Rameswaram city. So it is uninhabited after the cyclone. After that, the city is visited as a tourists place only.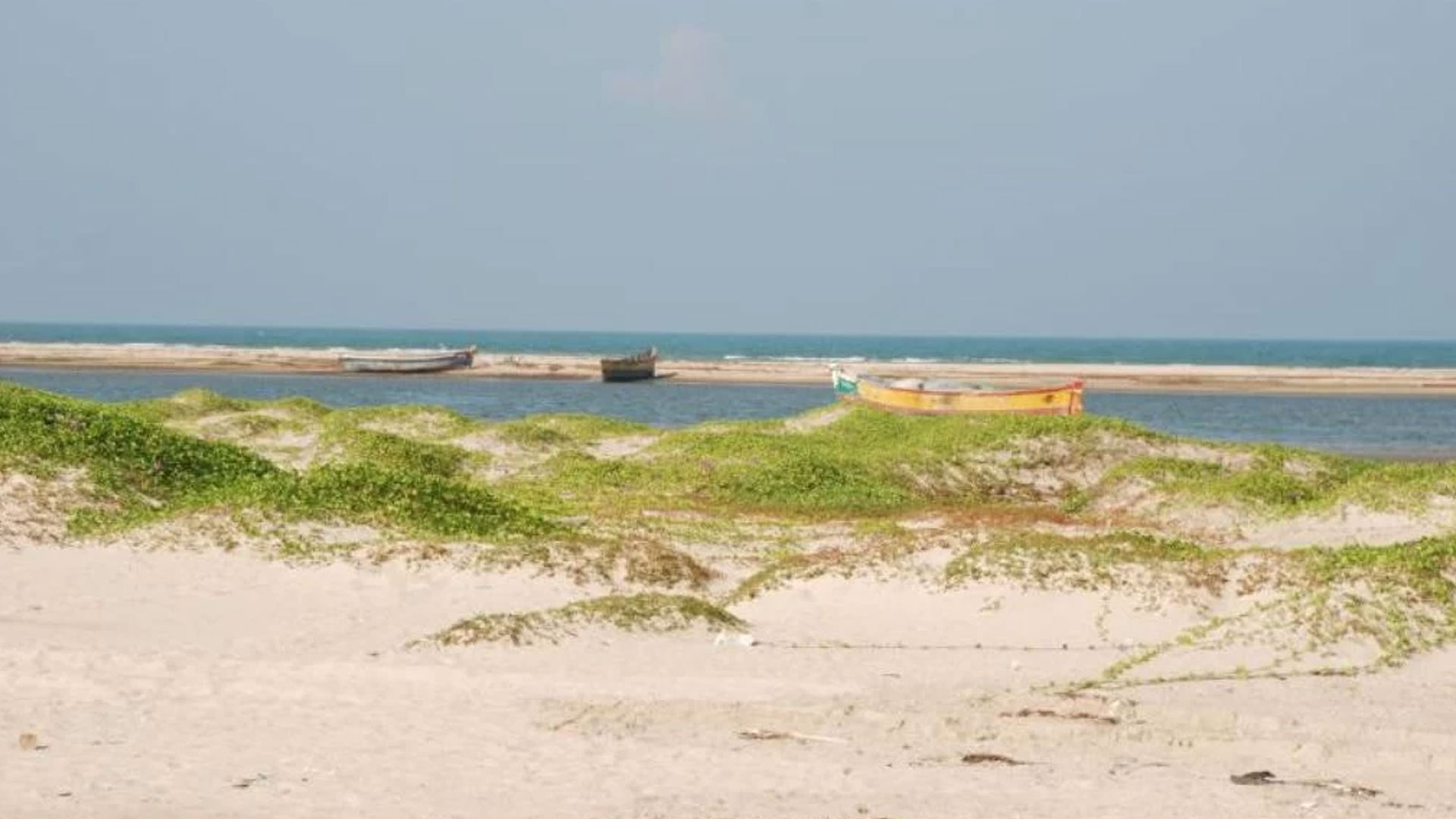 Dhanushkodi is said to be the last land of India as it is just 25kms away from Sri Lanka when in Dhanuskodi. The Indian Ocean and the Bay of Bengal meet here. You have to withstand the dusty breeze here for long but keep enjoying the panoramic seascape here.

What to see?
You can see the remains of the village, remains of the church, post office, railway station, sand buried roads, and railway line and Ashoka pillar. Sounds like a haunted village but interesting. The place is known as the Ghost Town as it is believed that people who died in the cyclone, the soul still exists in the form of Ghost. Entry after 5 pm is not allowed. No cafes, restrooms or hotels in Dhanushkodi. The entire tour to and from Dhanushkodi can be covered within 2 hours.
On the way, there is a temple where Lord Rama performed the "Raj Tilak" of Vibhishan, an Indian Navy post, a tea stall, and a snack shop. The Indian Ocean is beautiful, roaring and with high waves.
Ram Setu
Apart from the coastal charm and the mysteries attached to the place, there's one more thing that makes Dhanushkodi a really unique place to visit. And it dates back to none other than our mythological history, Ramayana. The town of Dhanushkodi is believed to be the place where Lord Rama had ordered Lord Hanumana to build a bridge which could carry his army across to Sri Lanka, where Demon King Ravana had kept Sita captive. As ordered, Lord Hanuman had obliged and it was here that the Ram Setu was built by the Vanara Sena.

How to reach here?
Dhanushkodi is connected by roadways and railways. One can take the 9 km long National Highway which connects to the city. Local transport is also available from different cities nearby. Tourists visit this city in their personal vehicles or in jeeps. Dhanushkodi is about 13 km from the main city Rameswaram. It takes 30-45 mins from Rameswaram to Dhanushkodi. Also, there are tempo services available who charge Rs.1500 for one round trip per tempo. So if you are a group of 10-15 people, reaching by tempo will be economical. It is advisable to not bargain with the drivers of the tempo. Besides, this you can take a flight to Madurai, which is approximately 3.5 hours drive away from Rameshwaram.
From Rameshwaram, you can drive or take a bus to Dhanushkodi until a certain point, i.e. Moonram Chathiram. From there, you need to board the tempo/tiny truck that will ferry you to Dhanushkodi.