Heli services begin for Gauchar and Chinyalisaur
Uttarakhand's first regular helicopter service started from Sahasradhara helipad in Dehradun between Chinyalisaur (Uttarkashi) and Gauchar (Chamoli). Chief Minister Trivendra Rawat flagged off the first heli service from Dehradun to Gauchar. On this occasion, he said that the commencement of heli service will benefit the remote areas immensely. It will play an important role in the development of the state. In times of emergency services in the mountainous areas, this service will be very beneficial.
It is the effort of the state government that more districts be connected through heli service. The commencement of heli services will also boost the tourism of the state. The Chief Minister said that work is going on to develop the airstrips of the state to increase connectivity in the state. The state government is making efforts to introduce small airplane services. The central government has set a target to connect a dozen cities of Uttarakhand with helicopter services under the 'Udaan-Teen' scheme.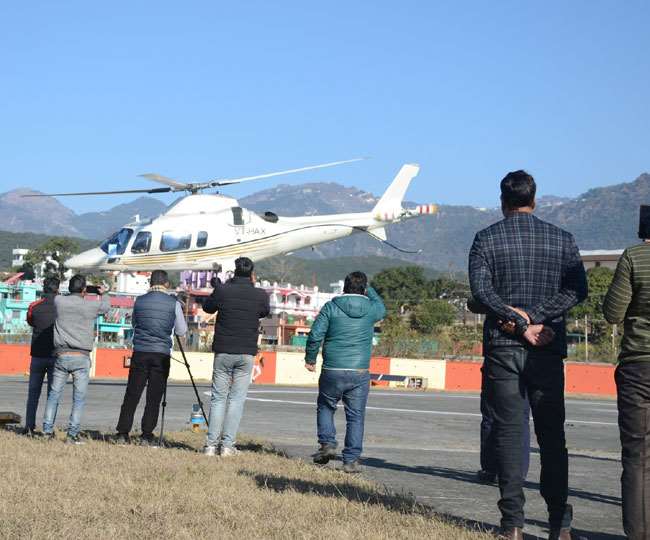 In the same sequence, on Saturday 8 February, the first helicopter service started between Dehradun to Chinyalisaur and Doon to Gauchar. Heritage Aviation has been selected for heli service on this route. Its representative Rohit Mathur said that ticket booking can be done on the company's website. There have also been some bookings. The fare from Doon to Chinyalisaur will be Rs. 3,320 and from Sahasradhara to Gauchar will be Rs. 4,120. He said that the Heritage Company will provide regular service with its six-seater helicopter. Two flights each will operate daily from Dehradun.
The journey to Chinyalisaur will be half an hour, while the journey of Gauchar will be completed in 40 minutes.
(INPUTS FROM ANI)